May 08, 2023
Announcing the Signed Limited Edition of FAUN by Joe Hill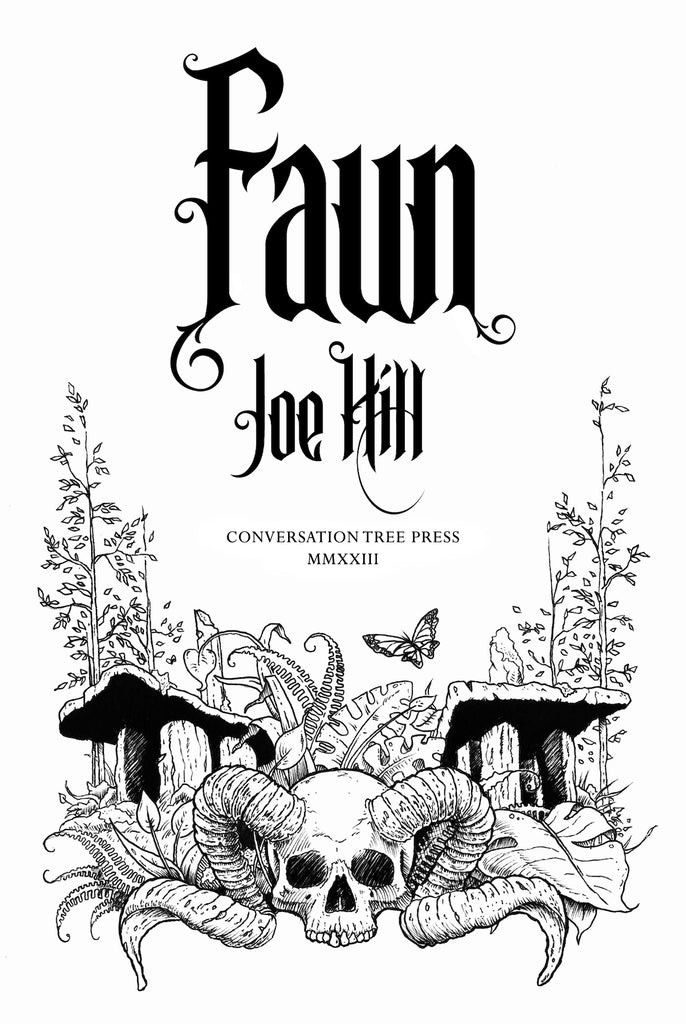 Jump to:
Edition information ❦ Illustrations ❦ Printing ❦ Order information ❦ About Conversation Tree Press ❦ About Joe Hill
I'm excited to announce we will be publishing a signed, limited edition of Joe Hill's highly-regarded novella Faun in four states: Standard, Deluxe, Lettered, and Roman Numeral.

In Faun, Joe Hill displays his mastery of the short form in a dark fantasy about a group of wealthy hunters whose members seek the thrill of hunting exotic animals.

During an expedition, one of the hunters mentions the existence of an even more exclusive hunting area, accessed through a little door somewhere in Maine. To see what lies on the other side, just speak with the ominous-sounding Mr. Charn. Oh, and bring your checkbook.

The story raises questions about the ethics of hunting, the repercussions of exploiting the natural world, and the consequences of human greed, masterfully interwoven in a tale that highlights Hill's boundless imagination and leaves us wanting for more.
Illustrated by Francois Vaillancourt
Our edition is illustrated by our fellow Canadian, the talented Francois Vaillancourt, who is no stranger to masterfully bringing to life characters and scenes of Joe Hill's worlds. As always, his illustrations add a new dimension to the reading experience, making it a true feast for the eyes, and we are honoured to have him as a collaborator on this project.

Below is a preview of two other illustrations that will grace the beginning of each of the two Parts of the novella. These will be printed letterpress via magnesium plates.
Printed by Nomad Letterpress and Set in Perpetua
Faun will be set in Eric Gill's exquisite Perpetua typeface, designed in the late 1920s for use in the Monotype typesetting system. A classic typeface often used in fine press publishing, it has a clean, crisp and legible design, making it versatile and reader-friendly. Designed almost a century ago, Perpetua's timeline design adds an air of sophistication to any printed matter.

The edition will be printed letterpress by Pat Randle and his team at Nomad Letterpress, who will be casting the metal type needed for printing using their Monotype system. While there is an excellent digitization available, printing with type cast from Monotype matricies allow us to use Perpetua as it was originally designed and cut.

The Monotype "hot metal" process involves heating a metal alloy until it's liquid and injecting it into matrices, each of which creates a single character. This produces individual pieces of metal which are lined up to form lines of type. After printing, all the type will be melted and reused for a future project. Faun is the first planned book from the press that will be printed this way.
Edition Information
Faun will be published in four states, with each copy signed by Joe Hill:
Standard - 500 copies
Deluxe - 200 copies
Lettered - 26 copies
Roman Numeral - 10 copies
The Standard and Deluxe states will be printed as octavos with trim sizes of 170mm x 240mm (6.7in x 9.5in), the same size as Peter Pan. Typesetting for these two states will begin soon with the casting to follow.

The Lettered and Roman Numeral states will be printed as quartos at 240mm x 340mm (9.5inx 13.4in), with a completely different internal layout to account for the grander trim size, essentially designing an entirely new book.

The design concepts for all four states have been finalized and the development of the prototypes will commence shortly.
Ordering Faun
Owners of the Lettered state and numbers 1-150 of the Deluxe state of Peter Pan will have rights to purchase corresponding letters/numbers of Faun in advance of public preorders. There are, at this moment, a handful of copies of the Deluxe Peter Pan remaining with rights. You can read more about how our rights system works on our FAQ page. Standard copies will be available for everyone to order when public preorders open.

Copies of the Roman Numeral will be first offered to collectors who have supported the press at the Lettered tier of its first publication - Peter Pan. Collectors who acquire a Roman Numeral copy of Faun will then have rights to the next Roman Numeral book we publish. Note not all editions will have a Roman Numeral state.

Prototypes and pricing will be shared in the coming months and shipping is expected by February 2024.

The best way to stay updated is to subscribe to the newsletter at the bottom of the page.
About Conversation Tree Press
Conversation Tree Press is a fine press publishing limited edition, letterpress-printed books hand bound in the finest materials. You can read more on our About page, where I talk about the story of the press, its philosophy, and some of the skilled artists and craftspeople I am proud to work with. Here are some other links you may find useful.
About Joe Hill
Joe Hill is the #1 New York Times bestselling author of The Fireman, Heart-Shaped Box, and Strange Weather. Much of his work has been adapted for film and television. His second novel, Horns, was made into a cult horror-comedy starring Daniel Radcliffe; his third novel, NOS4A2, was adapted for television by AMC, and featured Zachary Quinto; his short story The Black Phone was adapted for the big screen by Scott Derrickson and C. Robert Cargill, and starred Ethan Hawke. In 2007, he co-created the long-running comic book Locke & Key, with artistic maestro Gabriel Rodriguez; in 2011 Hill won the Eisner Award (Best Writer) for his work on the series. The six books in the Locke & Key saga formed the basis for a hit TV series on Netflix. A seventh volume, published in 2022, married the world of Locke & Key to the epic Sandman universe.
Hill's other works include the short fiction collection Full Throttle and several graphic novels: Basketful of Heads, Plunge, Sea Dogs, Dying is Easy, and Wraith (which continues the story of NOS4A2's Charlie Manx).