August 16, 2023
Joe Hill's Faun pre-order details and production update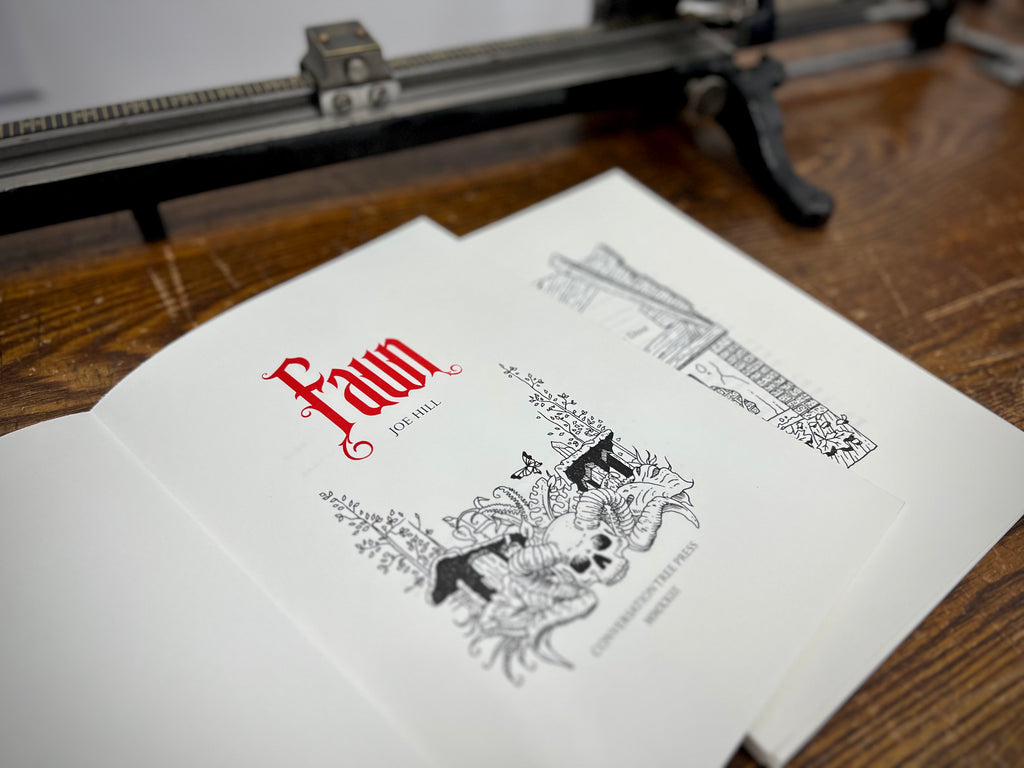 Below, you'll find details about Faun's pre-order, followed by a production update.
Pre-order Information
On Wednesday, August 30th at 11am ET (use this link to add your city and find your local time), we will unveil our letterpress-printed, limited edition of Joe Hill's novella "Faun." All copies are signed by Joe Hill and the artist Francois Vaillancourt.
Standard copies will be immediately available for the public to purchase. Additionally, rights holders of Peter Pan Deluxe #1-150 and any Lettered copy will have access to a private 48-hour pre-order window starting at the same time.
Two days later, on Friday September 1st at 11am ET, the following will be available to the public:
Unclaimed Deluxe copies between #1-150 (which have rights) and copies #151-200 (which do not have rights associated with them). If any copies from #1-150 are available, they will be sold on a first come, first serve basis as Deluxe copies are ordered on the website.
A lottery to purchase unclaimed Lettered copies, if any remain, which will be sent via email.
Roman Numeral copies will first be offered to Lettered rights holders who supported the press at the highest level for the first book - Peter Pan. If there is more interest than there are copies available, a lottery will be held among the Lettered rights holders.

We are unable to accept PayPal as a payment method due to potential delays in funds being released, a situation that has been known to last for months.
Instalment plans will also be available during the checkout process through the third party Partial.ly. There is a section on the FAQ page that provides details on how Partial.ly works.
Faun Production Update
Faun is well into production with all artwork and prototypes having been finalised for some time.
Standard and Deluxe
Both the Standard and Deluxe states have already been printed, and by August 30th, Ludlow Bookbinders will have been at work on the binding for over a month. Given the progress, we anticipate a swift transition from pre-orders to shipment for these two states in November.
Francois has signed all the colophon pages for these two states. While signing, Francois generously added a doodle to a very small number and they will be  randomly distributed during shipping.
Lettered and Roman Numeral
The handmade paper for the Lettered and Roman Numeral states is being made by Gangolf Ulbricht. With a much more expansive size at 240mm x 340mm (9.5″ by 13.4″), the internal layout for these two states has been completely redesigned from the Standard and Deluxe, allowing the artwork to be presented at twice the size.
Nomad Letterpress is setting and casting new type at a different size with printing scheduled for September.
Francois will be signing and remarquing the Lettered copies once printing is complete.
For the Roman Numeral state, Francois and another artist, whose work will only be in the Roman Numeral state, are offering something quite special to collectors.
The bindings for these two are especially involved, as you'll see soon, and we expect to ship copies before the end of the year.
You can read more about some of our other upcoming books in our most recent production update.