October 24, 2023
October Gyaff - Updates from the Press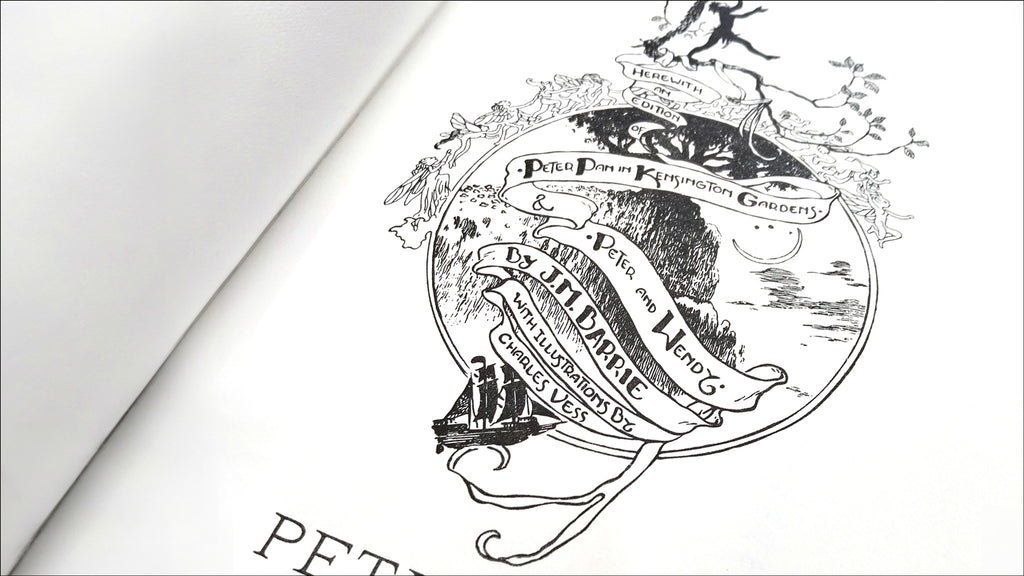 Peter Pan
Printed sheets of Peter Pan were delivered to Ludlow Bookbinders a week ago.
While the initial plan was to print Charles Vess's line drawings on the same print run as the text, initial proofs yielded drawings that were much too light due to the darker shading in many areas—an indication that additional ink was required on the rollers.
However, increasing the ink would degrade the quality of the printed text. This necessitated having the sheets go through the printer twice—once to print the text, and a second to print the line drawings with the extra ink.

While this doubled the printing time, sending out poorly printed books is simply not an option. The sheets are now being folded and gathered with an updated delivery estimate of December. Lettered copies will be completed first and mailed directly to collectors from Ludlow.

I sincerely appreciate everyone's patience through the immense delay we endured in production earlier and for the time it has taken to ensure all the line artwork was reproduced perfectly.
Our commitment to making a book you'll be proud to own is as strong now as it was when we started out, and everyone is working as hard as they possibly can to ensure Peter Pan is delivered before Christmas.
Faun
Standard and Deluxe
The Standard and Deluxe copies of Joe Hill's Faun are expected to begin shipping in the second week of November! My sincere thanks to illustrator François Vaillancourt, printers Pat and Ellen at Nomad Letterpress, and the team at Ludlow Bookbinders for making this happen. 


You can see additional progress photos on the Press's public Facebook page here, accessible without having to create an account.

Important note for collectors outside of Europe: So as to expedite delivery to collectors, we have arranged with Ludlow to have copies sent to us in Canada in two batches. The first batch will have enough copies for us to fulfill all pre-orders placed on or before October 31st. Orders placed after that date may ship out several weeks later when the final copies are bound and sent to us in the second batch. If you'd like a copy of the Standard or Deluxe sooner rather than later, now is a good time to order.

Important note for collectors in Europe: Pre-ordered copies destined for the United Kingdom and the rest of Europe will be sent directly from Ludlow. Ludlow will begin shipping copies at the same time we begin shipping copies here in Canada.
Lettered and Roman Numeral
The type has been cast, set and final proofreading completed just in time for the arrival of the second batch of Gangolf Ulbricht's handmade paper. Printing of the Lettered and Roman Numeral states will begin soon.

After printing, the sheets have quite a journey to make. Sveta will be hand-lettering each copy of the Roman Numeral in Armenia, Joe Hill will be signing in the US, and François will do the same in Canada.

François has completed all remarques for the Lettered state of each book.
He's now working with each of the Roman Numeral collectors to paint their custom artwork which will be inset into the full vellum binding of their respective copies. A few copies of the Roman Numeral are still available, and a payment plan can be extended.
Flowers for Algernon
Flowers for Algernon, Daniel Keyes's award-winning classic, is Conversation Tree Press's third edition. Printing begins next week, preorders will open in the second half of November, and shipping is expected in spring 2024.

This time around, the press is proud to be collaborating with Phil Abel and the team at Hand and Eye Letterpress. Hand and Eye has a distinguished history of not only letterpress-printing their own editions, but collaborating with Folio Society, No Reply Press, Lyra's Books, and, of course, with Marcelo Anciano on their very own Areté Editions.

All five line drawings, to be printed letterpress, are complete, as are most of the eight paintings. The remaining few will be finished before pre-orders open, and I'm looking forward to sharing the artwork and bindings soon.
The Marc Castelli Book
The Marc Castelli book will now be CTP's fourth edition. As mentioned before, artwork has been complete for some time and work continues on typesetting.
With over 40 line drawings of every size and a larger trim size of 240mm x 340mm (9.5″ x 13.4″), it presents a remarkable opportunity to use both type and illustrations to craft a visually captivating story in a way that both honours and enhances the text.

All of Marc's illustrations will be letterpress-printed, with printing scheduled to begin in February 2024. Pre-orders are expected to open shortly after.
Weird. 
No updates at this point.
Other Upcoming Projects
There are a number of other projects on the go, all of which we're exceedingly excited about. One in particular is a monumental and highly regarded trilogy, and creative concepting work has just begun with an artist who I've long been a big fan of. More on this in January.