July 12, 2022
Peter Pan Illustrated, Signed, Limited Edition - The Standard State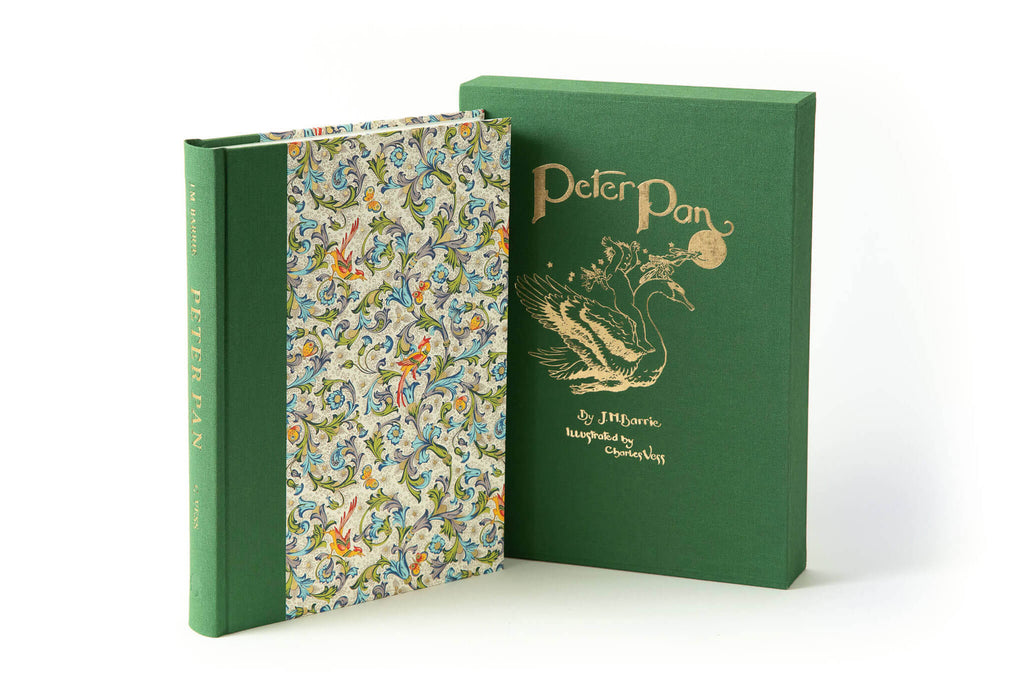 J.M. Barrie's Peter Pan is the first edition from Conversation Tree Press—a single volume, printed letterpress, collecting Peter Pan in Kensington Gardens and Peter & Wendy by J.M. Barrie. Lavishly illustrated with 9 full-colour plates and over 25 pen and ink drawings by Charles Vess, this edition hearkens back to the Golden Age of Illustration and is limited to only 726 copies across three states. More information on the edition can be found on the main Peter Pan page, along with these links to the Standard, Deluxe and Lettered States.
It is expected to ship in the first half 2023. Various aspects of each state may change going into production. 
Standard State Details
Limited to 500 unnumbered copies, The Standard State is US$275 with a portion of proceeds going to Great Ormond Street Hospital Children's Charity, helping the Hospital to deliver life-changing care to patients and discover new treatments and cures. There is a limit of two copies per household.
BINDING
The Standard State is handbound by Ludlow Bookbinders in quarter Apple Green Cialux book cloth and Art Nouveau decorative papers from Rossi, both made in Italy. In addition to butterflies, flowers, and flecks of gold, birds are prominently featured on this paper, alluding to Peter's status of being caught "betwixt-and-between" a boy and a bird in Peter Pan in Kensington Gardens.
PAPER
The text block is made of Munken Pure Rough Cream 120gsm (80#) paper, made in the Swedish village of Munkedal at the historic Arctic Paper Munkedals Mill, founded in 1871. Powered by hydropower, it is considered one of the most environmentally friendly paper mills in the world.
ILLUSTRATIONS
Lavishly illustrated throughout by Charles Vess, there are nine full-colour plates, including the frontispiece, printed on Nova Matt 130gsm paper and bound into the book. Each of the twenty-three chapters begins with a unique pen and ink illustration while the endpapers are double page spread maps of Kensington Gardens and Neverland for the front and back, respectively, completely redrawn by Charles Vess in pen and ink.
ENCLOSURE
Each copy is housed in a handmade, suedel-lined slipcase foil-stamped in gold with an illustration, title lettering and the names of the author and artist. Inspired by the Deluxe state of the first edition of Peter Pan in Kensington Gardens, illustrated by Arthur Rackham, Charles' new iconic take on the younger Peter sees him riding a swan while accompanied by fairies under the moonlight. 
SIGNATURE
Charles also signs each copy on the colophon page.
BOOK SIZE AND DETAILS
The edition will be approximately 224 pages with a trim size of 170mm x 240mm (6.7" x 9.5") and will include head and tail bands and a ribbon marker.
A Note On Shipping
Preorders with delivery to Europe made before all binding is complete will be shipped from the UK and enjoy lower rates; all orders placed after binding is complete will ship from Canada. Shipping rates will be made available before pre-orders begin.
Frontispiece and Additional Photos