October 13, 2022
Peter Pan Illustrated, Signed, Limited Edition - The Lettered State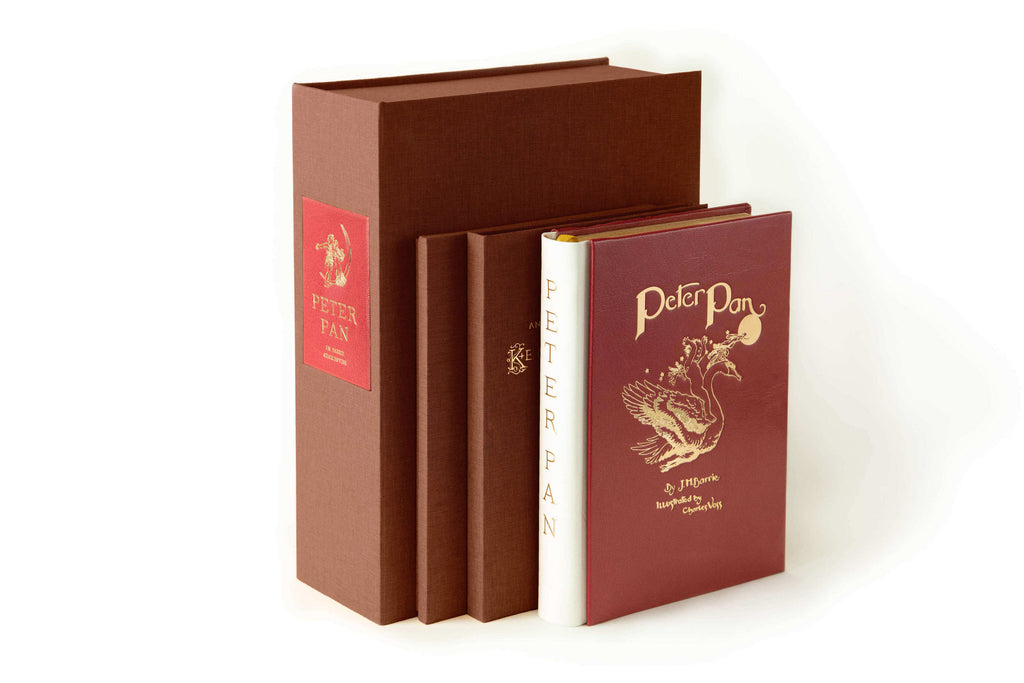 J.M. Barrie's Peter Pan is the first edition from Conversation Tree Press—a single volume, printed letterpress, collecting Peter Pan in Kensington Gardens and Peter & Wendy by J.M. Barrie. Lavishly illustrated with 9 full-colour plates and over 25 pen and ink drawings by Charles Vess, this edition hearkens back to the Golden Age of Illustration and is limited to only 726 copies across three states. More information on the edition can be found on the main Peter Pan page, along with these links to the Standard, Deluxe and Lettered States.
It is expected to ship in the first half 2023. Various aspects of each state may change going into production. 
Lettered State Details
Individually inscribed A to Z, the Lettered State will be US$2,695 plus shipping and a portion of proceeds from the purchase of every copy goes to Great Ormond Street Hospital Children's Charity, helping the Hospital to deliver life-changing care to patients and discover new treatments and cures. There is a limit of one copy per household.
On the evening of 27th December, 1904, Nina Boucicault took the stage at the Duke of York's Theatre in London's West End for the very first theatre performance of Peter Pan. Her costume, designed by William Nicholson, was made to resemble "autumn leaves and cobwebs," featuring crimson, burgundy, brown and olive.
Photo credit: Great Ormond Street Hospital Flickr page
Our Lettered State, enclosure, and ephemera draw inspiration from this original Peter Pan design.
BINDING
The Lettered State of Peter Pan is hand bound by Ludlow Bookbinders in a Bradel binding with vellum spine and the finest Harmatan and Oakridge leather boards in crimson. The front board is foil stamped in gold with an illustration, title lettering and the names of the author and artist. Inspired by the Deluxe state of the first edition of Peter Pan in Kensington Gardens, illustrated by Arthur Rackham, Charles Vess' new iconic take on the younger Peter sees him riding a swan while accompanied by fairies under the light of the full moon. 
Click on any photo to view a larger version.
The spine features the title of the book in gold foil stamping in the typeface Ivory, a late 19th century decorative typeface that was recently digitized. Each character in the typeface is entwined by a unique swash that is blind stamped. For repeating letters ('P' and 'E') we've customized the second occurrence of the swash so that all swashes displayed are unique.
The edition includes a gold ribbon marker and head and tail bands meticulously sewn in by hand.
PAPER
The text block is made of luxurious 145gsm (100lb) handmade paper made to our specifications from the esteemed Velke Losiny paper mill in Czech Republic. In operation since 1596, the mill produces some of the best handmade paper in the world.
Making paper at Velke Losiny:
Each sheet of paper features two watermarks: a fairy drawn by Charles and the Losin logo. Note, each sheet of paper is folded multiple times to form a number of pages, so each page will not have a watermark.
The top edge is trimmed and gilded in gold, while the other two edges are untrimmed and retain the paper's natural deckle from the handmade process.
Drawing inspiration from a bird wing pattern, Freya Scott's custom commission for the marbled endpapers have extended the concept to capture a sense of flight, evoking a sense of the airflows and currents that envelop Peter and his Lost Boys as they soar through the air, leaving sprinkles of golden fairy dust in their wake.
ILLUSTRATIONS
All 9 colour plates are printed giclée using pigmented inks on archival Somerset paper with glassine guards over each.
Each Lettered edition features a hand-drawn remarque (small illustration) by Charles on the signature page.
SIGNATURES
The following contributors will all sign the signature page:
Charles Vess: Illustrator
Dr. Maria Tatar: Author of the Introduction
Pat Randle: Printer
Binder to be decided: Ludlow Bookbinders employs a number of skilled bookbinders and whoever binds the individual copy of the Lettered State will sign.
MAP PORTFOLIO
The Lettered State comes with a portfolio containing double spread maps of Kensington Gardens and Neverland, completely redrawn by Charles. The maps are also bound into the book as fold out prints, as they are in the Deluxe State. The Standard State includes both maps as front and rear endpapers respectively.
MAGNESIUM PRINTING PLATE
Each Lettered collector will also receive one of the magnesium plates used to print a page of this edition of Peter Pan. If the plate contains artwork, the artwork will be canceled by drawing a line through it.
ENCLOSURE
The book, map portfolio and magnesium printing plate are all housed in a solander box covered in Italian-made Canapetta cotton/linen book cloth in cinnamon. The spine features an inset leather label made of the same crimson Harmatan and Oakridge leather that graces the boards of the book, with a gold-stamped drawing of Peter and Wendy by Charles.
RIGHTS
Collectors who purchase a Lettered state of Peter Pan will receive right of first refusal to the Lettered State of the next book published by the Press. See the Rights FAQ here for further information on what rights are and how they work.
BOOK SIZE AND DETAILS
The edition will be approximately 224 pages with a trim size of 170mm x 240mm (6.7" x 9.5").

Note, due to size and weight, the Lettered State of Peter Pan ships separately even if other states of Peter Pan are ordered.
Frontispiece and Additional Photos of the Lettered State of Peter Pan