October 13, 2022
Peter Pan Pre-Order Information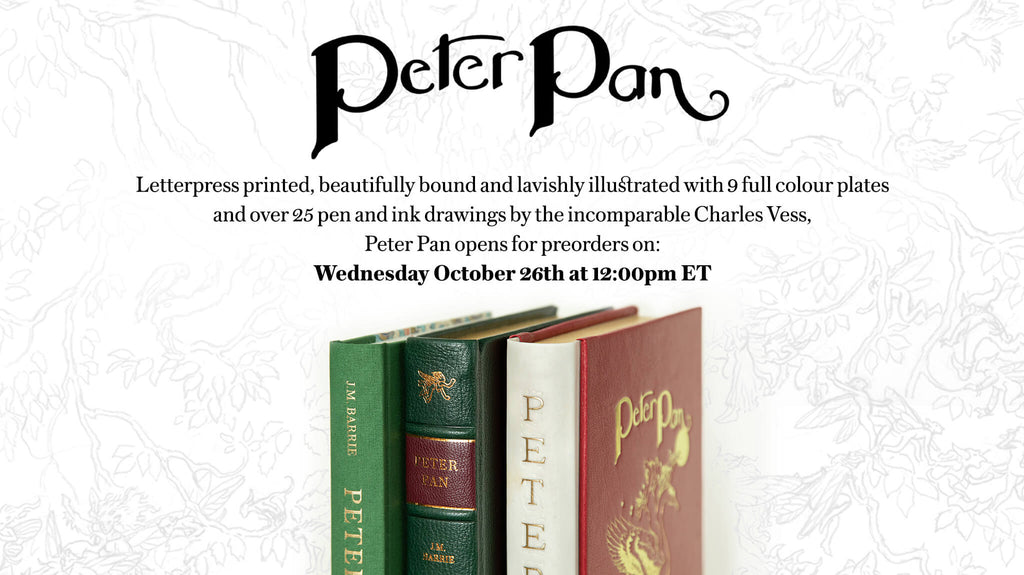 PRICING & PURCHASE LIMITS
The following maximum purchase limits are in place for each household:
Standard: $275 and 2 copies per household
Deluxe: $775 and 1 copy per household
Lettered: $2,695 and 1 copy per household
PREORDER TIME 
The Standard, Deluxe and Lettered states of our letterpress-printed, limited edition of Peter Pan will go on sale at 12pm ET on October 26th 2022. This corresponds to the times below:
 
Los Angeles, Vancouver: 9:00am
New York, Toronto: 12:00pm
London: 5:00pm
Amsterdam, Berlin: 6:00pm
Beijing, Hong Kong: 12:00am (midnight)
Australian Eastern Time: 3:00am
New Zealand Daylight Time: 5:00am
If your time zone isn't listed above you can use this link to add your own time zone and it will automatically show your local time on the 26th October. You can also click on "Add to Calendar" to add an event to your calendar.
PREORDER LINK 
https://conversationtreepress.com/collections/all
While the page is password-protected at the moment, in the lead up to the pre-order there will be no password and the page will be blank. Each book will have its own listing, so three 'products' will all appear at 12pm ET according to Shopify's server time.
Note: books are not reserved when added to the cart - the sale is only finalized when payment has been completed. 
RIGHTS
Standard copies come with no rights, Deluxe copies numbered #1 to #150 come with rights (numbers #151 to #200 do not), and all Lettered copies come with rights. See the FAQ for more information about the rights system.
Because there are 200 Deluxe copies of Peter Pan with numbers assigned based on order time, this means the first 150 collectors to purchase a copy will receive a copy with rights, while the remaining 50 collectors will receive a copy without rights.
If you're among the first 150 collectors to place an order, I will email you within a few days to let you know.
NOTE ON THE STANDARD STATE
The Standard State of our books will not be individually numbered as previously announced. This allows us to spend more time on the development and design of new books and less on the fulfilment logistics required to track purchases for all Standard States. The limitation remains unchanged at 500 copies, each signed by Charles. 
SHIPPING
Please take note of our Shipping and Returns Policy along with our Terms and Conditions as you will need to agree to them before checking out.
Preorders with delivery to Europe made before all binding is complete will be shipped from the UK and enjoy lower rates; all orders placed after binding is complete will ship from Canada. 
UK and European preorders:
• Preorders made before binding is complete for delivery to the UK will be sent via APC Parcels and includes signature delivery.
• Preorders made before binding is complete for delivery to Europe will be sent via DHL and includes signature delivery.
All Canada, US, Asia, Oceana and Rest of the World (ROW) orders, along with UK and European orders made after binding is complete:
• Will be shipped via air using CanadaPost with tracking.
• Canadian orders include signature delivery.
• Signature is not included for everyone else because it costs significantly more. For example, non-signature delivery to the US is $25.57 but adding signature brings it to $37.86.
• If you'd like to add signature delivery please let me know and we'll send an invoice for the additional cost after you place your order.
Due to size and weight, the Lettered State of Peter Pan ships by itself even if other states of Peter Pan are ordered.
Barring any last minute changes or mistakes to be corrected, here are the shipping rates:
PAYMENT OPTIONS
We are including Paypal as a payment option because we know it is often used by collectors and allows the ability to spread payments over time.
In addition, we have also added Sezzle as another option for payment plans. If you'd like to use Sezzle, it may be a good idea to sign up for an account in advance. Please note, we do not offer technical or customer support for Sezzle, so if you do have any issues creating your account please contact their customer care.